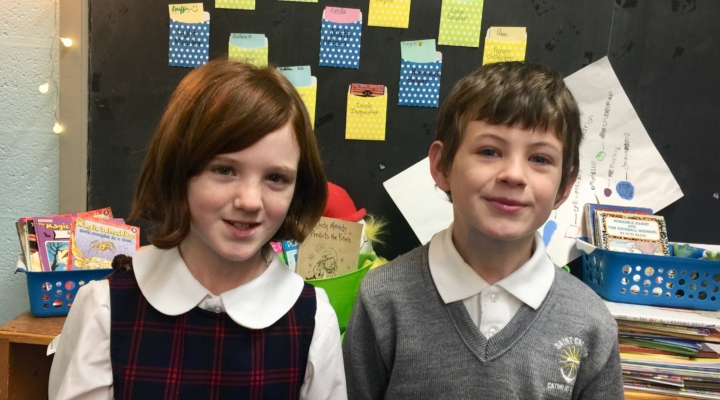 Students Set Record!
An Interview with Mr. Ian Barron.
Who went with you to hike the Appalachian Trail last summer?
2 of my children, Aifric (Age 9, 4th Grade) and Owen (Age 10, 5th Grade).
Why did you go?
Owen & Aifric have spent the previous 2 summers (2016, 2017) hiking or backpacking in every National Park in the lower 48 states (44 parks completed so far, only the 3 in Florida to go!) On their visit to Great Smoky Mountain & Shenandoah National Parks they came across the Appalachian Trail and decided they wanted to hike it.

The Appalachian trail is the longest hiking-only trail in the world. It is just under 2,200 mile long and crosses 14 States (Georgia, North Carolina, Tennessee, Virginia, West Virginia, Maryland, Pennsylvania, New Jersey, New York, Connecticut, Massachusetts, Vermont, New Hampshire, and Maine). The mountains climbed along the AT total to approximately 464,464 feet which is equivalent to climbing Mount Everest 16 times from sea to summit.


How long did it take you?
Owen & Aifric completed a southbound hike starting at Mount Kathadin in Maine and finishing at Mount Springer in Georgia a total of 2190.9 miles. It took them 99 days and 38 minutes from start to finish! (The average time taken to hike the trail is a little over 5 months). They hiked on every day but 4 of these 99 days (an average of 22 miles per day). Their longest day of hiking was 39.2 miles and on 39 days they hiked more than a marathon.
Aifric and Owen had close encounters with bears, snakes and hurricanes on the trail.

What record did you set?
Owen and Aifric's goal was to complete the AT in under 100 days. To our knowledge they are the first children to have achieved this and they are currently the fastest kids to have completed the trail.