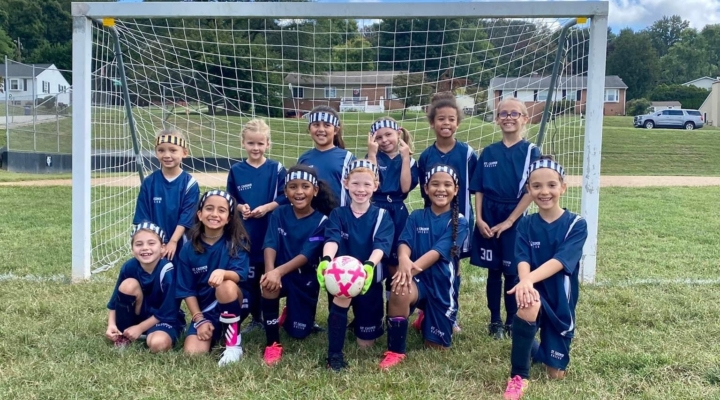 Athletics
Soccer Programs
CURRENT STANDINGS:

Soccer roundup, 10/1
Postponed due to rain. All games rescheduled for the same time and location on 11/19.
Soccer roundup, Saturday 9/24
St. Casimir continues to demonstrate their prowess on the fields with 5 wins and a loss.
U14 soundly defeated Corpus Christi via a hat trick from Konstantin Lalacki complemented by goals from Anthony Girolami and Reece Schindler.
U12 dished out a flurry of goals in their 12-1 win with Logan Cos starting off the show with a goal right from the start with Nick Purtell and Miller Piechert contributing 8 goals between them!
U10 faced stiff competition and were all tied up 4-4 but let in a last minute goal. Paige Purtel, one goal, and Sophie Bartomioli, three goals, helped to ensure Casimir was in it until the end!
The U8 boys teams both won their games with Timmy Mulligan, Camden Chance, Leo Smith, and Jack Williams all hitting the back of the net.
The U8 girls also dished out another solid showing in their 8-0 win with a four-pack of goals from Johanna Hook!
Casimir's combined record now improves to 15 wins, 2 losses, and 1 tie over three weeks, awesome job to all of our athletes!
Soccer roundup, Saturday 9/17
St. Casimir had a perfect weekend with six games played and six victories as they walked off the fields!
U14 pulled off a comprehensive win to improve their record to 2-0. The peak moment of the game was a penalty shot save by Trey Hoffert followed up by a breakout by Konstantin Lalicki to score a goal at the other end barely 15 seconds later!
U12 was able to contend with a last-minute field location change to pull off a solid victory with Jack Bailey and Andrew Sadler punching goals in.
U10 pulled off their first outdoor win since 2019 with a 5-0 win! Eli Glass put in the last goal with a rocket from close range to seal the deal.
Both U8 boys teams were aided in their victories by Will Szczepaniak who had a double-pack (2 goals) in both games!
The U8 girls put together yet another solid showing to also improve to a cool 2-0.
Soccer roundup, Saturday 9/10

Here are the highlights from this past weekend for St. Casimir Soccer:
St. Casimir came away this weekend with four wins, one tie, and one loss.
The day started with a come-from-behind 2-1 victory by U14 over Immaculate Conception. Goals by Charles Sticka and Hunter Anderson ensured the W.
U10 had a tough 1-5 defeat but Chloe Bailey ensured Casimir got on the scoreboard.
The U8 all-girls team made a solid showing with an 8-0 victory while the 2nd grade U8 team had a great 4-1 win. The 1st grade U8 team were down 0-3 going into the final minutes of the game but were able to score three quick goals to come away with a draw. Lincoln Wise scored the final goal of the game with a nutmeg (between the legs) shot.
U12 was not to be outdone with a 6-1 victory, Nick Purtell himself had four goals! Payne Burton made a phenomenal penalty kick save to keep momentum high for Casimir and Jack Bailey was able to bury his own penalty kick to put the game away for good!
If you have questions about the soccer program please contact Steven Bartomioli at stcasimirsoccer@gmail.com Schedules and fields can be found in the blue box to the right.