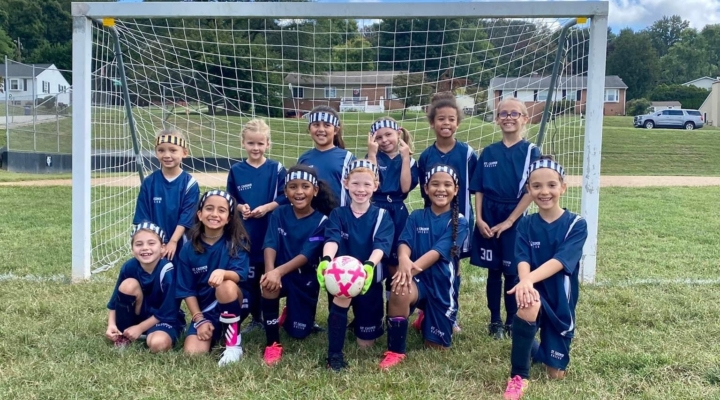 Soccer Program
Soccer Program Updates:
WEEK TWO:
St. Casimir Soccer's second week was a little more trying than the first with nine teams coming away with 4 wins, 1 tie, and 4 losses. Interestingly, all four wins saw our teams scoring 7 goals each!

U8 Boys 1st/K: Fell 1:5 to a an older and more experienced team. Adam Bartomioli had the lone goal for Casimir to keep them on the score sheet.

U8 Boys 2nd: Off to another solid win putting another 7 goals into the net like the previous week. Will Szczepaniak and Christo Christoplous both put in 2 to keep the momentum going!

U8 Girls: Had a tough test where they fell 0-3. Amalia Asmar was instrumental in keeping the score low with her big foot to boot the ball up the field!

U10 Boys: Faced a relentless opponent but held them also to just three goals. Emerson Lawrence's repeated efforts finally found the back of the net to put in one for Casimir, final score of 1:3.

U10 Girls: Also had a a difficult test, facing their first loss as a team in two season with a final score of 1:4. Johanna Hook provided the lone goal also making sure Casimir never goes down without a fight!

U12 Boys: Had a tough match but were able to pull out a tie, 2:2. Christian Kim, Lexi Sticka, and Jude Di Mattina all played crucial roles to take the win from their opponent!

U12 Girls: Heading into a game boosted by four U10 girls, Sophie Bartomioli, Jackie Bond, Johanna Hook, and Marinasia Katsas, the final whistle saw them easily outmatch their opponents. Mia-Ly Doucet-Nguyen was critical on defense while Paige Purtell pushed the team on offense with Zoey Reilly putting in two goals, helping Casimir cruise to a cool 7:0 win.

U14 Boys: The U14 boys finally had their first game of the season and the first of the weekend for St. Casimir. The first 15 minutes were deadlocked but once the floodgates opened it was all over! Charles Sticka and Nick Purtell traded goals back and forth, both scoring a hat-trick (3 goals in one game!) with a final score of 7:0.

U14 Girls: Also had their first game of the season and traded goals back and forth with their opponent but were able to squeak out a 7:6 win to put Casimir on the board!
WEEK ONE:
Our first weekend of soccer games are in the books! St. Casimir picked up where they left off with seven teams stepping onto the field and coming off with 4 wins, 2 ties, and one loss.
U8 Boys 1st/K: Won with a final score of 7-6. Brady Powell scored St. Casimir's first goal of the season and Adam Bartomioli contributed a handful of goals (five goals!) to push Casimir to victory!

U8 Boys 2nd Grade: Put away a solid showing of 7-0 with Mason Saruallo leading the charge with his footwork and two goals.

U8 Girls: Tied their first game of the season 2-2 with Amalia Asmar holding it down in front of goal!

U10 Boys: Fought hard but couldn't pull it off, falling 4-8. Two goals by Leo Smith helped to show St. Casimir wasn't going down easy.

U10 Girls: Building off of last year's success at U8, the now U10 Girls cruised to a cool 3-0 victory with Marinasia Katsas playing solid in goal in the second half to ensure the shutout!

U12 Boys: Playing in the top division for U12 boys, St. Casimir fought hard to secure a 1-1 tie with the lone goal by Christian Kim at one end while Chance Przybylowicz fended off multiple shots at the other end.

U12 Girls: Had the most impressive win of the weekend, winning 9-0 with a stunning performance by Juliana Chance and her four goals!
The 2023 fall season is upon us! Looking to build on last year's successes the St. Casimir Soccer Program started by expanding from six teams last season to eight teams this season! While they had just one all-girls team last year they have three this year, including the opportunity for St. Casimir combined with St. Joseph Fullerton and Our Lady of Hope to put together an all-girls U14 team. Our student athletes have been working hard out on the soccer pitch being guided by their dedicated coaches. Everybody is excited for the upcoming season and are eager for the challenge that awaits us!
The 2023 schedule can be found in the blue box to the right.